Cast
Kyabje Dilgo Khyentse Rinpoche
While Khyentse Rinpoche only appears in archival footage and photographs in Yangsi, it is appropriate to mention him first, as without his dedication to benefit others and tireless devotion to Buddhist wisdom, this story would not have taken
place. Dilgo Khyentse Rinpoche was born in 1910 in Eastern Tibet to a family descended from the royal lineage of the ninth century king Trisong Detsen. When he was still in his mother's womb, he was recognized as a tulku or incarnation by the illustrious teacher, Mipham Rinpoche. He was later enthroned as an emanation of Jamyang Khyentse Wangpo, one of the most important tertons (treasure-finders) and writers of the 19th century. "Khyen-tse" means wisdom and love.
Even as a little boy, Rinpoche manifested a strong desire to devote himself entirely to the spiritual life. Although his father wanted him to follow in his footsteps, he finally agreed to allow his son to pursue his own wishes and, at the age of eleven, Rinpoche entered Shechen Monastery in Kham, one of the six main monasteries of the Nyingma School. Later, Khyentse Rinpoche spent over 13 years in solitary retreat. After the invasion of Tibet in the late 1950's, he escaped to India, and spent the rest of his life dedicated to teaching and spreading the Buddhist dharma. Read more about his life.
Dilgo Khyentse Yangsi Rinpoche
Khyentse Yangsi Rinpoche is the incarnation of Dilgo Khyentse Rinpoche, who passed away in 1991 at the age of 81.
Khyentse Yangsi Rinpoche was born in Nepal on June 30,1993. When Khyentse
Rinpoche passed away, his close students requested Trulshik Rinpoche, his most senior and accomplished disciple, to find his incarnation. He had numerous dreams and visions that clearly indicated the identity of the incarnation. His Holiness the Dalai Lama confirmed that this child was the tulku (or reincarnation) of Dilgo Khyentse Rinpoche.
Khyentse Yangsi Rinpoche is being educated in the quiet of Bhutan under the guidance of Rabjam Rinpoche. He studies a complete Shedra (nine-year philosophical college course) in Bhutan  tutored by Khenpo Yeshe Gyaltsen. English and meditation are included in the curriculum.
He is also receiving the teachings and empowerments that his predecessor held. Every year he travels to Nepal for the Tibetan New Year to visit his family and partake in the annual ceremonies at Shechen Monastery.
Read about Khyentse Yangsi Rinpoche on Elephant Magainze: a snippet from his 2010 World Tour – an audience with children at the Boulder Shambhala Center. Includes a transcript of their dialog and video.
Shechen Rabjam Rinpoche
Shechen Rabjam Rinpoche, born in 1967, is the grandson and spiritual heir of Dilgo Khyentse Rinpoche. Since his grandfather's passing in 1991, Rabjam Rinpoche has taken the responsibility of transmitting Dilgo Khyentse Rinpoche's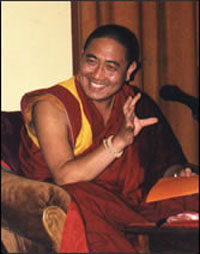 teachings, and is bringing his vision for the preservation of Tibetan Buddhist teaching and culture to fruition. Since the discovery of Khyentse Rinpoche's reincarnation, Dilgo Khyentse Yangsi Rinpoche, Rabjam Rinpoche has taken on the role of spiritual mentor, overseeing all aspects of Khyentse Yangsi's upbringing, schooling, formal education in Buddhist philosophy and meditation practice, and travel. Throughout he has made an important point of not shying away from the presence of the modern world in the young reincarnation's life. At the same time he did not diminish the central role of traditional training.
Since assuming he role in running Shechen, Rabjam Rinpoche established the Shechen Philosophical College and the Shechen Retreat Center in Nepal. In response to the needs of women wanting to practice  and study in the lineage of Dilgo Khyentse Rinpoche, he rebuilt and improved the facilities of the Sisinang Nunnery in Bhutan where over seventy-five nuns study and practice. In accordance with the wish of Dilgo Khyentse Rinpoche, he built a small Nyingma monastery and study center in Bodhgaya, India.